The LandCruiser 300 is the new generation in a long line of legends. Like those before it, it is up to the challenge in the bush, the outback, the mountain pass and yet it's built to take on the city. With up to 7 seats in Sahara and full time 4WD across all models this is the strongest, safest, smartest and most luxurious LandCruiser yet.
Introducing the Sahara ZX and the GR Sport
The LandCruiser 300 is joined by two exciting new variants, the luxurious Sahara ZX and the adventure seeking GR Sport.
Smarter than ever
The LandCruiser 300 comes filled with intelligent and intuitive technology designed to help keep you safe and connected.
Quality you can rely on
Every aspect of the LandCruiser 300, including its genuine accessories is designed, engineered and built with quality in mind. This is the most powerful and capable LandCruiser ever made.

Sahara, Sahara ZX and GR Sport pre-production models shown. Final range and specifications may differ from those depicted.
Get to know the GR Sport and Sahara ZX
Developed as a base vehicle for the Dakar Rally the GR Sport is the LandCruiser at its absolute best. Created to be the ultimate 4WD it's at home on rough trails and off-road environments thanks to an enhanced drivetrain and intelligent suspension system. The Sahara ZX adds graceful styling plus first and outer second row heated and ventilated seats, hands-free tailgate with a kick sensor, and a torque-sensing limited-slip differential on the rear axle. The peak of comfort and luxury, it's at home everywhere from off-road tracks to highway touring.
Meet the full LandCruiser 300 range
The All-New LandCruiser 300 is almost here, ready to take you to the farthest flung corners of Australia and back home again. Compare the variants and find your ideal LandCruiser 300.
GX
A new 3.3L V6 Twin Turbo Diesel and 10-Speed Automatic Transmission means you've got the power to explore. You also find sophisticated technology and connected features throughout the 5 seat cabin.
GXL
The GXL adds more technology like wireless phone charging, front and rear parking sensors and Multi-Terrain Select for enhanced off-roading. And there's third row seating, increasing its capacity to 7 people.
VX
More luxury and more technology like a 12.3" Multimedia display, 8-Way power adjustable seats for the front row, Moonroof and premium interior finishes sees the VX climb to new heights.
Sahara
The Sahara has a long history of combining exploration and luxury. The newest Sahara adds a 14 speaker JBL®[C8] system, dual rear seat entertainment, leather accented interior, power folding third row and back door as well as heated and ventilated seating for the first and outboard second row.
Sahara ZX
The All-New 5 seat Sahara ZX means business, adding carbon look steering wheel, centre console and door trim plus a Rear Torque Sensing Limited Slip Differential (LSD). Unique 20" wheels, a hands-free tailgate and illuminated side steps enhances the level of luxury.
GR Sport
With a nod to our motorsport pedigree the GR Sport has both carbon look interior trim as well as GR Sport logos and badging throughout the interior and exterior. Front and rear differential locks and the Electronic Kinetic Dynamic Suspension System ensure power is expertly deployed in all conditions.
Performance & Interior
Enhanced performance
Sporting a brand new V6 3.3L Diesel twin-turbo engine and transmission across all grades, the LandCruiser 300 is engineered to be lighter, more responsive and stronger. With 227kW of power and 700Nm of torque it has a braked towing capacity of 3500kg. All that strength coupled with exceptional off road stability and 4WD technology means it will perform where others won't go.
Upgraded luxury
The newest LandCruiser variants, the Sahara ZX and GR Sport build on the comfort and luxury you've come to expect from the legendary Sahara. But don't worry, all variants are packed with sophisticated technology designed to help assist you in whatever journey you're planning
Safety
Every LandCruiser 300 variant gets Toyota Safety Sense, a suite of intelligent safety features designed to help you drive safer. On some variants Multi-Terrain Select, with Automatic Mode helps you to navigate the roughest of off-road terrains.
Legacy
Building the Snowy Mountains Hydro-Electric Scheme

The first 13 LandCruisers in Australia were sent straight into battle. It was their job to carry heavy duty machinery into the impossible terrain and harsh conditions of Kosciuszko National Park.

Longest drive of all time 692,227km

Emil and Liliana Schmid spent almost 30 years travelling the world non stop. Their LandCruiser 60 has been to over 180 countries and territories.

1st and 2nd 1996 Dakar Unmodified Diesel Class

8497km over 15 days. That's how far two LandCruisers drove to take the top two podium spots during the most gruelling rally in the world.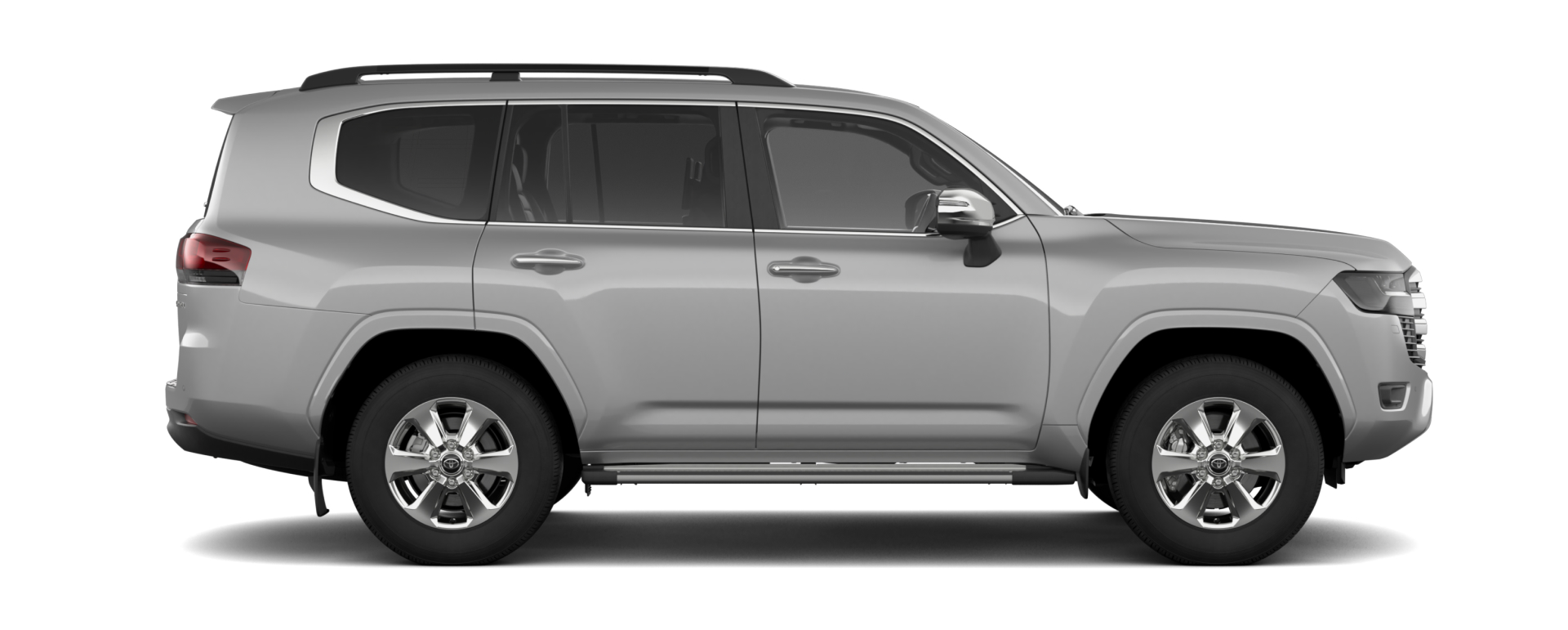 Pre-production model shown. Final range and specifications may differ from those depicted.
The LandCruiser's unbeatable spirit means it's been part of thousands of success stories over the last 70 years both on the world stage and in the back paddock. The LandCruiser 300 will build upon the quality, ruggedness and capability it took to create such legendary stories. Imagine where yours will take you.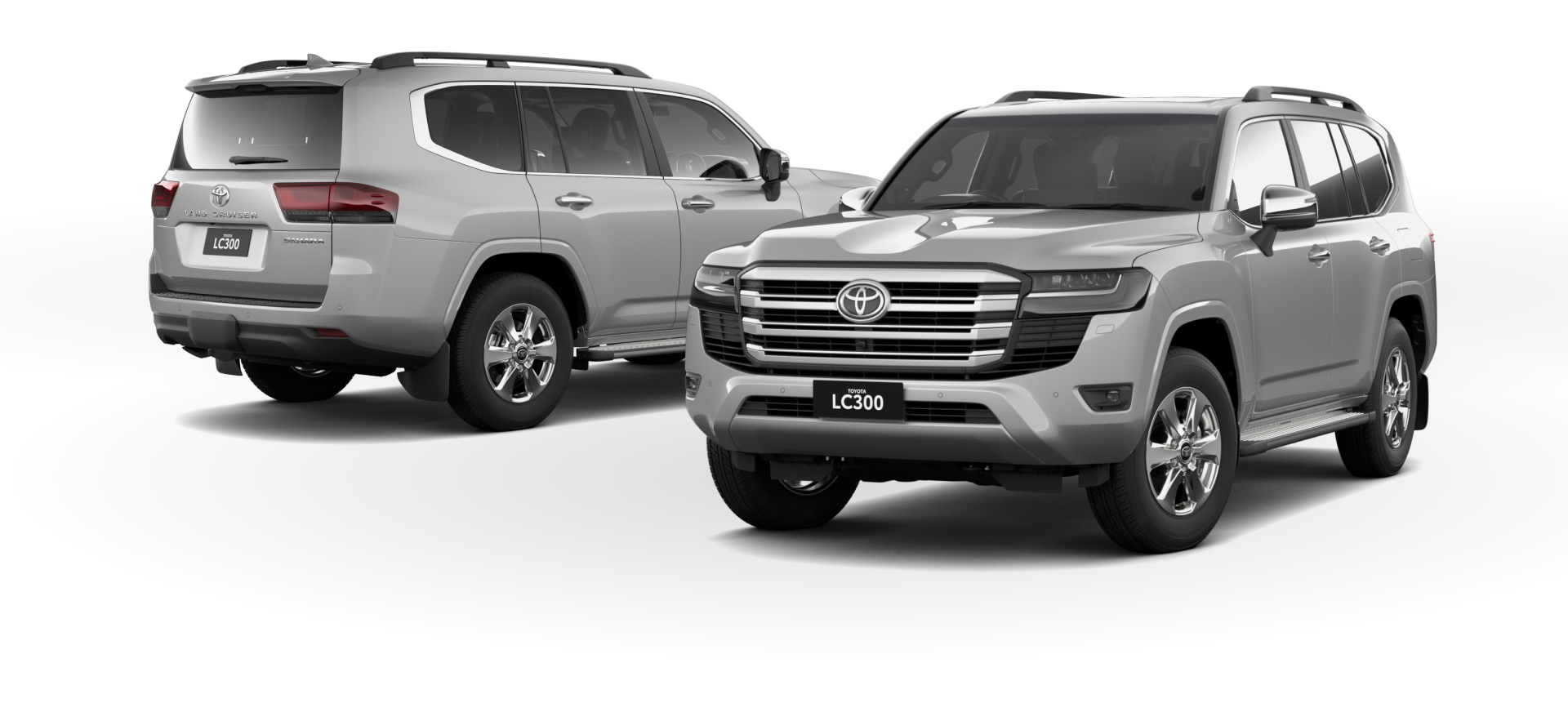 Pre-production model shown. Final range and specifications may differ from those depicted.
Register your interest
Register your interest below, and you'll be one of the first to know more about this highly-anticipated vehicle, including its release date.
Disclaimers
[C8] JBL® is a registered trade mark of Harman International Industries, Incorporated.